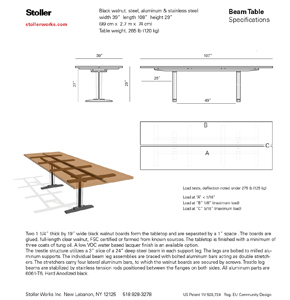 click image to enlarge



Beam Table Specifications

Black walnut, aluminum, steel and stainless steel

The design of the aluminum support assembly allows maximum cantilever of the tabletop with minimum visible structure, and the core weight provided by the beam legs makes the table extremely stable.

Available in two standard lengths as well as custom lengths, in walnut and other hardwoods. FSC certified woods are available.

Beam Table:
Width 39" Length 108" Height 29"

Small Beam Table:
Width 39" Length 87" Height 29"

US Patent 11/503,724, Reg. EU Community Design.