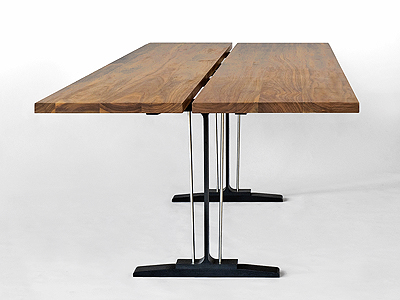 click image to enlarge
Beam Table

Black walnut, aluminum, steel and stainless steel

Expressing both lightness and strength, the legs of the trestle structure are made from short lengths of deep steel beams that are stabilized by stainless steel tie rods. The typical low invasive stretcher bar has been eliminated. The design of the aluminum support assembly allows maximum cantilever of the tabletop with minimum visible structure.

Available in two standard lengths as well as custom lengths, in walnut and other hardwoods. FSC certified woods are available.

Beam Table:
Width 39" Length 108" Height 29"

Small Beam Table:
Width 39" Length 87" Height 29"
US Patent 11/503,724, Reg. EU Community Design.