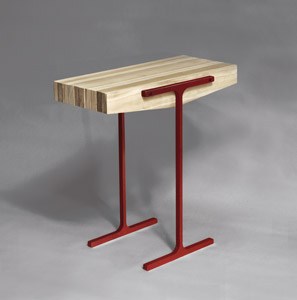 click image to enlarge



Light Beam Side Table

Poplar and steel beams

The tabletop of laminated poplar boards is bolted between 3/4" beam cutoffs. The top surface is flat and smooth, while the lower surface angles down to increase contact with the beam webs. The individual boards are expressed at both ends as a low relief.

Poplar is a fast growing and abundant hardwood. It is sealed with tung oil and the beams are powder coated red.

Width 12" Length 24" Height 25"





US Patent D604,532,&nbspReg. EU Community Design.